news
Espressif's AWS Event Was a Great Success
Shanghai, China
Nov 6, 2017
The launch of our new products ESP32-PICO-D4 and ESP32-PICO-KIT on November 2nd at the AWS Pop-up Loft was attended by an enthusiastic audience in San Francisco.
The event was led by our Senior Embedded Software Engineer, Angus Gratton, our Senior Software Manager, Jeroen Domburg, and our Senior Technical Marketing Manager, Amey Inamdar. They presented our world-renowned chips for IoT applications, ESP32 and ESP8266. However, they focused on our new products ESP32-PICO-D4 and ESP32-PICO-KIT.
Our new System-in-Package (SiP), ESP32-PICO-D4, integrates a 4MB SPI flash and is designed with TSMC's 40nm ultra-low power technology, just like ESP32, on which it is based. ESP32-PICO-D4 integrates all peripheral components in a single package, while module soldering and testing are not required. Therefore, ESP32-PICO-D4 is the ideal choice for any space-limited or battery-operated applications, such as wearable electronics, sensors and other IoT products.
The ESP32-PICO-KIT is a mini development board based on the ESP32-PICO-D4 SiP module. All the IO signals and the system power are led out through standard header pins. Developers can connect the board to other modules, depending on their needs. ESP32-PICO-KIT integrates a USB-UART bridge circuit, allowing users to connect it to a computer USB port for downloading and debugging.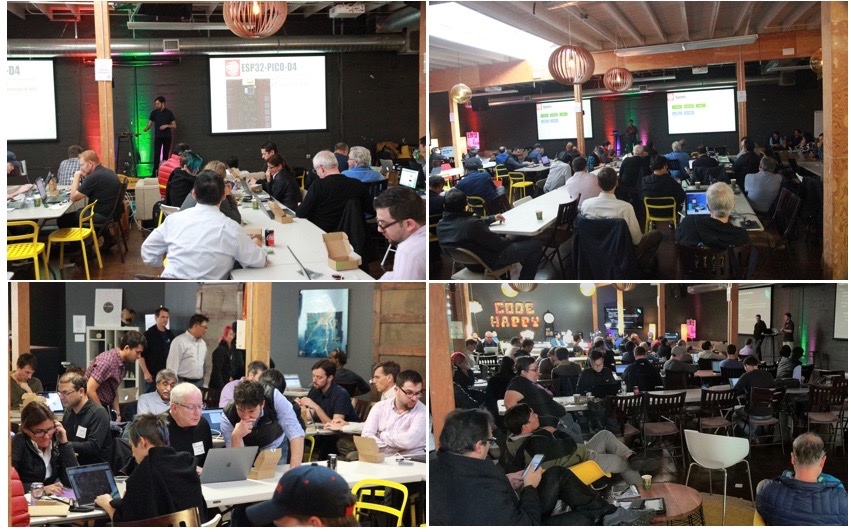 During the one-day event in San Francisco, our engineers presented the many programming languages and software development environments that are available, when creating applications for ESP32. They showed the multiple advantages of using the Espressif IoT Development Framework for C and C++, and how easy it is to connect ESP32 boards to AWS IoT in just a few lines of MicroPython, or Python using Zerynth. Then, our partners from Cesanta showed how to use Mongoose OS for JavaScript and C.
Our event finished with a four-hour workshop where all participants had the opportunity to experiment with the ESP32-PICO-KIT boards that Espressif offered them for free, and custom-made expansion boards with sensors, LEDs and buttons. This way they were able to build their own IoT devices, connect them to the AWS services to receive and submit data, as well as react to the environment.
News

Espressif Systems has launched a brand new Software Development Kit (SDK) with full integration of Apple HomeKit.

News

Espressif Systems has offered the ESP32 technology to partner with Xiaomi, the world's largest smart-hardware platform.

News

Espressif Systems and Elektor International Media have teamed up to organize an international competition focused on ESP32-PICO-KIT.