news
DingTalk's New Biometric Attendance Monitor Based on ESP32
Shanghai, China
Jun 2, 2017
Espressif teams up with Alibaba's DingTalk to create M1, the new biometric attendance-tracking system.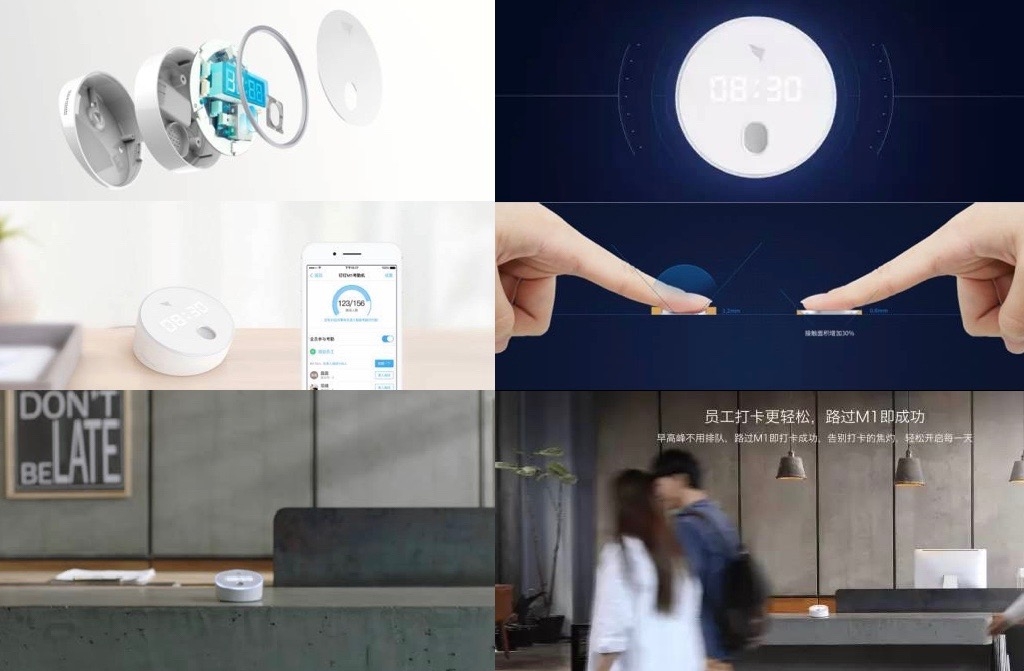 Chinese Internet giant Alibaba has chosen to rely on Espressif Systems' technological expertise to make its first steps into the IoT market through its business unit DingTalk. Their new smart monitor M1 is the first product resulting from a collaboration between research-and-development teams from Espressif and DingTalk. M1 uses cloud computing, which enables businesses to monitor their employees' working hours accurately, efficiently and safely. The product was officially presented at a press conference in Hangzhou in May 2017.
M1, measuring only 86×86×47 mm, has a minimalist and sleek design with a round shape that supports a rotatable base. Espressif Systems' flagship chip, ESP32, lies at the heart of the system which features Wi-Fi and Bluetooth functionalities providing simplified wireless and cloud connectivity.
The monitoring system works in conjunction with a special application (DingDing) which is installed on employees' smartphones. As soon as employees pass by M1, their attendance is taken through an ESP32-enabled communication between their smartphones and M1. If any employees forget their smartphone, or do not have one, they can activate the optical fingerprint module and take attendance using their fingerprint. The system is scalable and can support expanding or established companies of any size. The built-in storage capacity of M1 can accommodate up to 120,000 fingerprints, while there is no restriction on the cloud storage capacity.
This biometric attendance-monitoring system saves time for HR staff, who no longer need to waste time recording and processing traditional time sheets or punch cards. Attendance data are automatically uploaded onto the cloud, which is linked to the payroll system where salary and overtime are automatically calculated with precision for every employee.
M1 is currently priced at 299 RMB.
News

Espressif Systems has launched a brand new Software Development Kit (SDK) with full integration of Apple HomeKit.

News

Espressif Systems has offered the ESP32 technology to partner with Xiaomi, the world's largest smart-hardware platform.

News

Espressif Systems and Elektor International Media have teamed up to organize an international competition focused on ESP32-PICO-KIT.